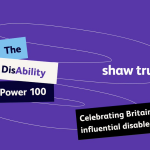 Disabled Students UK recognised as one of the six most influential disabled-led organisations in The Disability Power 100 List
30 October 2021
Disabled Students UK is expanding
2 September 2022
"Going Back is Not a Choice" – New report from Disabled Students UK shows 85% of disabled students would benefit from continuation of online learning options
As England lifts all remaining COVID restrictions, a new report from Disabled Students UK (DSUK) urges that gains made during the pandemic to make higher education accessible must continue to build momentum. Analysing the survey responses of disabled students from 69 universities across the UK, "Going Back is Not a Choice" presents a number of key lessons for the sector. 
Focusing on concrete solutions such as staff resources, interdepartmental communication and reducing administrative barriers, the report lays out a systematic road map to building and consolidating an accessible, disabled friendly higher education sector.
Mette Westander, Founder of DSUK says "If there is one thing the Higher Education sector should learn from the pandemic it's that it has an enormous untapped potential for accessibility. Universities have had to adapt to rapidly changing circumstances, and in so doing have developed capacities which might otherwise have taken a decade. The challenge now is not sliding backwards but rather building on these strengths to create a Higher Education sector that is accessible whether you are autistic, going through cancer treatment or are a full-time carer."
Over the last five academic years, the number of UK students with a declared disability has increased by 46%, making up almost 1 in 5 of home students. This is now likely to accelerate as approximately 2.4% of the UK population is suffering from long covid (ONS, 2022) and mental health disabilities continue to increase (Office of Health Improvements and Disparities, 2020).
Suanne Gibson, Associate Professor of Inclusive Education at the University of Plymouth states: "This report from DSUK is both seminal and a potential game changer in its review of UK HE inclusive provision. The key takeaway for HE leaders and practitioners is that of 'student partnership and empowerment' – we cannot as a sector move forward successfully in terms of our students' progression and our degree programme effectiveness thus attractiveness, if we do not hear or respond meaningfully to that key message."
Despite protective legislation, disabled students have historically been marginalised in academic settings, and the report argues that in some ways this has continued during the pandemic – only 23% of the disabled students surveyed agreed that they had received the disability support that they have required during this time.
In other ways, however, accessibility has taken leaps forward. A few institution-wide changes, such as offering recordings of lectures, has given enormous benefits to disabled students as well as to a number of other groups. 85% of disabled students report that they would benefit from online teaching/learning being an option for them after the pandemic.
The report highlights the disparity in prioritisation of disabled and non-disabled students' needs. Disabled students had been asking for lecture recordings for years before the pandemic and were often told it was impossible. And yet when non-disabled students needed the same provision it was provided.
Mette Westander states: "We are at a real crossroads right now. As restrictions ease and the main beneficiaries of provisions like lecture recordings are once again marginalised students, we are seeing some universities removing this new form of access. This backsliding must not become the norm. There are many of us for whom "going back" is not a choice. Now we wait to see if we will be included or not."
About DSUK
Disabled Students UK is a community interest company and the biggest disabled student-led organisation in the UK, working to increase accessibility in Higher Education and improve disabled students' experiences.
DSUK is made up of almost 500 current and former disabled students from 60 different universities. We use disabled-led expertise to create structures of accountability in regards to accessibility in Higher Education. We achieve this through empowering disabled students, spreading disabled students' insights into accessibility and informing policy.
A few of our key achievements over the last 18 months have included:
Our report on Impact of the Pandemic on Disabled Students and Recommended Measures being mentioned in parliament;
Leading training for Student Union Staff on Tackling Disability Issues and supporting Disabled Students;
Being recognised in the Disability Power 100 list as one of the most influential disabled-led organisations in Britain.
Find out more about Disabled Students UK: https://linktr.ee/DisabledStudentsUK