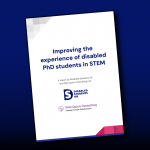 New report reveals how disabled PhD students can be better supported
23 October 2023
Disabled Students UK crowned number one changemaking organisation in the disability space
Disabled Students UK has been recognised as the number one changemaking organisation on the Disability Power 100 list 2023.
For the third year running, Disabled Students UK has been recognised on the list, this year taking home first prize in the "Changemaking Organisations" category.
The news comes at a pivotal time for the organisation as 2023 has seen the team launch Access Insights, a project aiming to fill the information gap regarding Higher Education accessibility. The first ever Annual Disabled Student Survey into disabled students' experiences in Higher Education, heard from 1372 respondents who answered 116 questions on their lived-experience.
Speaking of the organisations win, Abi Moffat, COO said: "We want to thank our volunteers and our incredible community of current and former disabled students who helped make the survey the success it was. We also want to thank the pioneering university members who supported the project."
The disabled-led organisation is celebrating This Disability History Month by releasing the results of the survey in three stages. The first results, comparing the current disabled student experience against a number of 10 year goals sector 2033, can already be seen on the website: AccessInsights.co.uk. Next week two more sections will be released: The University Comparison data will provide disabled students with a tool to make informed decisions about their studies while the Positive Policies data will provide the Higher Education sector with the insight needed to improve the disabled student experience. The month will culminate in the launch of the The Access Insights Report on 29th November 2023.
DSUK is inviting the disability community and Higher Education sector more widely to join them for what will be a groundbreaking event for the disabled student community. The organisation's Founding Director will present key results from the report and will lead a panel discussion about how Higher Education Providers (HEPs) can use these results to become truly inclusive to disabled students by 2033 with some key industry figures.
"We are delighted to be named the number one changemaking organisation in the disability space, emphasising the power of disabled students' insight" said CEO Mette Anwar-Westander. "This Disability History Month we are carrying forward the historic disability movement's slogan: 'Nothing about us without us' by sharing disabled students' own experiences of accessibility on our website. Grounded in this historic movement we are looking to the future, setting goals for the disabled student experience in 2033."
Through Access Insights membership, DSUK provides member universities tailored reports and consulting based on the findings of the project. Additionally DSUK offers speaking services, consulting and training from lived-experience experts.
Speaking about the success of the project, Communications Manager Charley Hullah said: "In three short years, DSUK has championed the disabled student voice, growing from a grassroots movement into a fully operational enterprise built on disabled expertise."
"In 2023 we've overseen the largest disabled student research project to date, the Annual Disabled Student Survey which will now take place on a yearly basis. We have also provided training for students who wish to professionalise their disability wisdom and experience in our consultant training course, putting into practice our belief that disabled people should be paid for sharing their insight" said Charley.
Looking forward, Mette sets out the organisations future plans: "We plan to continue to expand on our data driven and collaborative approach through Access Insights which will empower institutions with the data needed to bring about much needed improvements to accessibility in the years ahead."
If you are interested in learning more about how your organisation can benefit from Access Insights membership or if you would like to support their work as a sponsor, please get in touch at contact@disabledstudents.co.uk.
---
Connect with Disabled Students UK
e: contact@disabledstudents.co.uk

LinkTree | Twitter | LinkedIn | Facebook | Instagram | YouTube
---
The Disability Power 100
The Disability Power 100 celebrates ambition and achievement, and plays a role in changing society by recognising the strengths and talents of disabled people who are pioneers, change-makers and influencers.
A fifth of the UK's population has a disability or impairment, however, there is very little recognition of successful and influential disabled people. Disabled people are more likely to be unemployed, and the gap is widening, and until we change the public perception of disability, to recognise strong, successful, influential people who are leaders in their field, this gap will continue. According to government figures the disability employment rate has increased by 9.2 percentage points from 43.4% in July to September 2013 to 52.6% in July to September 2022.
Previous winners of the Disability Power 100 number one spot have included comedian and presenter Alex Brooker, campaigner and peer Baroness Jane Campbell, BBC disability journalist Nikki Fox.
The 100 finalists were selected by an independent judging panel chaired by Andrew Miller MBE from more than 1,500 public nominations. Full details of this year's finalists can be found on www.disabilitypower100.com.
The top 10 and all-important top spot, will be announced on 8 November from The Drum, Wembley. To receive updates you can follow Shaw Trust on Twitter.