"Going Back is Not a Choice" – New report from Disabled Students UK shows 85% of disabled students would benefit from continuation of online learning options
15 March 2022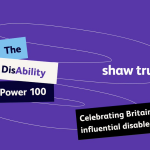 Disabled Students UK recognised on the Disability Power 100 list for the second year
17 October 2022
After two years as an entirely volunteer-led organisation, Disabled Students UK is taking the next step in their journey and employing their first staff members. Founded in 2020, DSUK has quickly become the largest disabled student-led organisation in the UK, with 500 contributors from 60 universities. DSUK works nationally to empower disabled students to share their insight into accessibility with the ultimate goal of informing policy change.
Mette Anwar-Westander, Founder and Chief Executive of DSUK says, "A year ago we became a Community Interest Company and started offering training, public speaking and consultancy services. We realised that we needed to become financially self-sufficient to ensure the continuation of our important work. Since then, demand has grown quickly, and we are grateful to have received additional funds from Snowdon Trust. This means we are now in a position to take the next step toward sustainability."
DSUK is recruiting for key organisational positions: a Chief Financial Officer (10h/week) and a Head of Administration (10h/week). In October the organisation will also start accepting applications to a free training programme for current and former disabled students who wish to become DSUK consultants. All staff members and consultants are paid equally at £15 per hour.
Amelia McLoughlan, DSUK Network Director, says: "Disabled students face an uphill battle at university. Only 23 percent get the disability support they need from their universities. A key reason for this is that disabled students are not consulted on accessibility, meaning that universities do not know how to improve. By training the first generation of paid disabled student consultants we believe we will be able to effect real change "
In the last year, DSUK has delivered services to student unions, universities, access consultants and oversight bodies, while continuing their important community and research work. Shaw Trust has named DSUK one of Britain's most influential disabled-led organisations. Their 2020 report, which warned the sector about the impact of the pandemic on disabled students, was mentioned in Parliament and their 2022 report of key accessibility lessons from the pandemic has been called "both seminal and a potential game changer in its review of UK HE inclusive provision."

Applicants are asked to send their CV and cover letter to contact@disabledstudents.co.uk