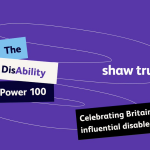 Disabled Students UK recognised on the Disability Power 100 list for the second year
17 October 2022
"My experience as a DSUK Consultant: Speaking at the Universities UK Conference"
28 April 2023
Disabled Students UK is delighted to announce the launch of their Access Insights pilot in collaboration with two UK universities: the University of Exeter and University College London.
Access Insights aims to help the Higher Education sector address their knowledge gap around accessibility, and create institutions which are fully inclusive to disabled students. The project will tap into the experiential knowledge held by disabled students in order to provide a public evaluation of each institution's strengths and growth points when it comes to accessibility. This knowledge will not only improve accountability by providing prospective students with information relevant to their university choice, but give individual universities the opportunity to grow.
Mette Anwar-Westander, Founding Director of Disabled Students UK, states: "We are excited to be launching this experience-led project, built on the contributions of countless disabled students, university staff members and disabled persons' organisations. We are especially thankful to our pioneering university members who are putting words into action and showing their commitment to investing in the disabled student experience"
University members support the user-led research undertaken by DSUK and receive a variety of benefits including:
A yearly institution-specific report with concrete step-by-step accessibility-improvement recommendations.
Regular briefs with informative videos and articles putting a human story to the data.
6 hours of consulting and a discount on DSUK training to help implement the guidance.
"We are really excited about our involvement in Access Insights and working with Disabled Students UK and our staff and students to further identify and understand the areas where we can improve access to education for everyone in the UCL community." – Ben Watson, Head of Digital Accessibility at UCL .
Access Insights will launch more widely in the beginning of 2023 with the aim of providing a profile of accessibility at each UK university.
The Equality Act 2010 states that disabled students have a right to adjustments which prevent the disadvantages they may face otherwise face in Higher Education, however a lack of understanding of accessibility often means that these adjustments are not provided in practice This creates barriers in their experience of higher education, and leads many disabled students to discontinue their studies. DSUK's latest survey of more than 300 disabled students showed that 57% of disabled students have considered leaving their course, interrupting their studies, or switching to part-time studies.
When universities lack insight into the disabled student experience it leads to a vicious cycle. Without understanding accessibility staff members are unable to build accessible systems. The inaccessibility of the university then prevents disabled students from raising issues and sharing their knowledge, which further contributes to inaccessibility and perpetuates ignorance of these issues faced by disabled students within the sector.
---
Disabled Students UK is a community interest research institute working for increased accessibility in Higher Education, and is the biggest disabled student-led organisation in the UK, with over 500 contributors from 60 different universities. After two years of being a voluntary-led organisation, DSUK has recently expanded by employing their first staff members, facilitated by generous funding provided by the Snowdon Trust. DSUK has twice been named one of the most influential disabled led organisations in Britain by the Shaw Trust.