Disabled Students UK shortlisted for the Disability Power 100 2021
24 June 2021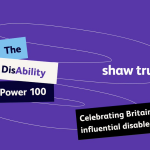 Disabled Students UK recognised as one of the six most influential disabled-led organisations in The Disability Power 100 List
30 October 2021
Any proposed changes to the Higher Education admissions system nationally will inevitably impact disabled students. However, we found in consultation with our members that the proposals lacked the specific detail needed to understand how the changes would affect disabled students.
The information provided in the consultation had a striking absence of any reference to either disabled students or the key protocols that disabled students are subject to such as Disabled Students Allowance (DSA). There was no way to assess the equality of opportunity advancement between people who share a protected characteristic and those who do not in regard to disability, despite due regard to this being a requirement of the Public Sector Equality Duty.
The disabled students that participated in our focus group questioned how Post Qualification Offers/Post Qualification Application would impact exam appeals, DSA applications, Universities ability to implement reasonable adjustments, and the role of Open Days – all of which are essential factors for disabled students. There was no mention of how the proposed models would interact with any of these aspects of the current admissions process. Therefore, the consultation itself raised only more unanswered questions than it produced meaningful feedback.
We believe in any admissions system there must be consideration and time allowed for the declaration of disabilities and implementation of reasonable adjustments. We are deeply concerned that the consultation proposed a system where timelines could be dramatically cut and our fear is that disabled students may delay or end their study because there is no time allowing for the delivery of reasonable adjustments or the process of transferring social care and/or medical registration.
The clear failures in this consultation only clarify the essential requirement for disabled students and disabled people's organisations to be consulted far more substantially before these proposals move forward. Furthermore, we would advocate for the Office for Students to administer and enforce minimum accessibility requirements for all Higher Education providers, to protect disabled students and in order for Higher Education Providers to truly meet their anticipatory duty.