"My experience as a DSUK Consultant: Speaking at the Universities UK Conference"
28 April 2023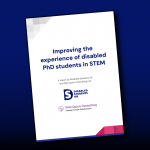 New report reveals how disabled PhD students can be better supported
23 October 2023
Disabled Students UK is delighted to announce that over 1300 students participated in the Annual Disabled Student Survey. This incredible response has made it the largest survey conducted on the disabled student experience of accessibility in Higher Education in the UK.
Understanding the diverse challenges that disabled students face while pursuing their studies, Disabled Students UK acknowledges and appreciates the valuable time and effort contributed by these students. By coming together in this way, survey respondents are forging a path towards a more inclusive future for all disabled students across the country. The resounding support for the survey was evident as countless students and staff members rallied to share the survey, leading to responses from over 90 universities.
The next crucial step for DSUK is to closely analyse the vast data collected in collaboration with our team of dedicated researchers. The results of this extensive analysis are expected to be unveiled in the upcoming autumn season on our Access Insights website. Universities with a substantial number of respondents will have the opportunity to access institution-specific summary results on our website, while universities who are members of the project will additionally receive tailored reports to aid them in enhancing their accessibility measures.
🥳🎉 We're excited to announce that 1375 students shared their experiences in the annual #DisabledStudentSurvey, making it the biggest survey into the disabled student experience of accessibility in Higher Education to date. Thank you for your contribution! [1/4] pic.twitter.com/MqcCl9sGRk

— Disabled Students UK (@ChangeDisabled) July 22, 2023
As we look forward to sharing the survey's findings, we want to thank all those who participated and contributed to making the dissemination of this survey a success – thank you to our team of volunteers, consultants, university staff, previous students and all those who took the time to share and retweet the survey to your networks.
To learn more about Disabled Students UK, Access Insights membership and how institutions can benefit from tailored reports visit: https://www.accessinsights.co.uk/services/.
To be notified when the results are published and to be kept informed about future surveys, please subscribe as a contributor (this is for students only).
To keep up to date with DSUK please subscribe to our newsletter.
---
Stay connected with DSUK on social media: http://linktr.ee/DisabledStudentsUK